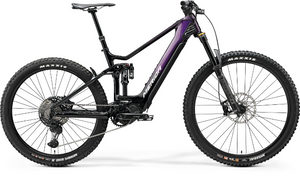 SAVE $2600 for a limited time! Huge manufacturer offer ends soon!
For a limited time, don't miss the incredible chance to own the exceptional eONE-SIXTY 8000 Electric Mountain Bike at a remarkable price of just $7,399. Act quickly, as this exclusive offer is ending soon, and you could save a whopping $2,600 on this trailblazing masterpiece!
Why Choose PedL for Your E-Bike Adventure?
🚲 Unbeatable Savings: Our current special offer allows you to keep more money in your pocket with an astonishing $2,600 discount on the eONE-SIXTY 8000. Don't let this opportunity slip away!
🚲 Nationwide Swift Delivery: PedL ensures a speedy and reliable delivery service across Australia, ensuring you can start enjoying your e-bike adventure sooner.
🚲 In-Person Experience: If you're in Sydney, come and experience the eONE-SIXTY 8000 in person at our retail store. Our knowledgeable team is here to guide you in selecting the perfect ride.
🚲 Wide Selection: PedL offers a diverse range of high-quality e-bikes and accessories, ensuring you find the ideal option to suit your off-road ambitions.
🚲 Expert Guidance: Our passionate team is dedicated to cycling and e-bikes. Trust us to provide expert advice, helping you make a well-informed choice tailored to your preferences.
🚲 Ongoing Support: At PedL, we prioritize your satisfaction. Our exceptional customer support and after-sales service ensure your e-bike journey remains enjoyable and hassle-free.
Discover the eONE-SIXTY 8000: A Trail Conqueror
The eONE-SIXTY 8000 is a true force of nature, combining electrifying performance with remarkable value. Its renowned carbon/aluminium frame, celebrated on high-end models, guarantees trail excellence without compromise. Equipped with Marzocchi fork and Fox rear shock, this bike guarantees a smooth and exhilarating performance on challenging trails.
The integrated Shimano LinkGlide drivetrain and EP8 motor harmonize effortlessly with the high-capacity 630Wh battery, granting you the power to conquer hills and enjoy extended adventures. Building on the legacy of its predecessor, the 'original' eONE-SIXTY, this highly anticipated model has been celebrated with numerous accolades and test wins, solidifying its reputation as MERIDA's most decorated and awarded bike.
With the proven EP8 motor and 630Wh internal battery, this carbon e-enduro bike is prepared for any challenge. The meticulously-tuned MTB geometry combines with the lightweight carbon front triangle and robust aluminium rear, delivering optimal stiffness and weight distribution.
A seamlessly integrated battery and mixed wheel size configuration give the eONE-SIXTY poise and confidence on even the most demanding trails. The THERMO GATE and WIRE PORT technologies maintain the battery's optimum temperature and enable convenient cable management.
In conclusion, the eONE-SIXTY 8000 stands as a trail conqueror with a legacy of accolades, designed to tackle all terrains. Grab this exclusive opportunity and experience electrifying off-road adventures like never before. Embrace the future of mountain biking and elevate your ride with the eONE-SIXTY 8000, available at an unbeatable price for a limited time. Shop confidently at PedL, your trusted e-bike destination, and seize the moment to redefine your trail experience!
| | |
| --- | --- |
| 01. Frame | eONE-SIXTY CFA II; MAT carbon; 150 STR; 27.5x2.8" max. WHS; 148x12 AST; intube; max. 630 Wh |
| 02. Sizes | S-M-L-XL |
| 03. Fork | Marzocchi Z1 Ebike+; Air; 160 STR; Tapered; 51mm fork offset; 29x2.6" max WHS |
| 04. Rear Shock | FOX Float DPX2 Performance; platform |
| 05. Drive Unit | Shimano DU-EP600, 85Nm |
| 06. Battery | Shimano EN806 630Wh / Shimano EN805 504Wh for XS only |
| 07. Battery Charger | Shimano EC-E8004; 4A charging current |
| 08. Display | Shimano SC-EN600 |
| 09. Mode Switch | Shimano SW-EN600-L |
| 10. Rear Derailleur | Shimano XT RDM8130 Shadow+ 11 |
| 11. Shifters | Shimano XT M8130 11 |
| 12. Dropper Post Lever | Shimano SL -MT500-IL |
| 13. Brake-F | Shimano SLX; 4 piston |
| 14. Brake-R | Shimano SLX; 4 piston |
| 15. Rotor-F | Shimano RT64; 203 mm |
| 16. Rotor-R | Shimano RTEM600; 203 mm |
| 17. Chainring | Shimano CRE80-B; 34 ATC |
| 18. Crank | Shimano FCEM600; 165 mm for all sizes |
| 19. Chain | CNLG500 |
| 20. Cassette | Shimano LG600; 11-50 ATC; 11 GER |
| 21. Pedals | VP VPE-527 |
| 22. Handlebar | MERIDA EXPERT eTR; 780 WHB; 20 RHB |
| 23. Handlebar Stem | MERIDA EXPERT eTR II; MAT aluminium; 35 DSH; 0 ASD; Supernova mount |
| 24. Stem Length | 40 mm all sizes |
| 25. Seat Post | MERIDA EXPERT TR; 30.9 DSP; 0 SSB; XS 100 SPT - S 125 SPT - M 150 SPT - L/XL 170 SPT |
| 26. Saddle | MERIDA EXPERT CC; V-mount |
| 27. Hub-F | Shimano XT; 110x15 WHF; 32 SPH; Centerlock |
| 28. Hub-R | Shimano XT; 148x12 WHR; 36 SPH; Centerlock |
| 29. Axle-R | MERIDA EXPERT TR; including removeable lever, 6/4mm allen key |
| 30. Rims | MERIDA EXPERT TR; 29 IWR; MAT aluminium; Tubeless ready (tubeless tape and valves not included) |
| 31. Tyre-F | Maxxis Assegai; 29x2.5 "; fold; TR EXO+ 3C MaxxGrip |
| 32. Tyre-R | Maxxis DHR II; 27.5x2.6 "; fold; 3C EXO+ TR |
| 33. Light Front | LEZYNE E-BIKE POWER STVZO E115, reverse MERIDA Custom Mount |
| 34. Light Rear | USB REAR Light CG-214RG |
| 35. Other | MERIDA Multitool with saddlebox |