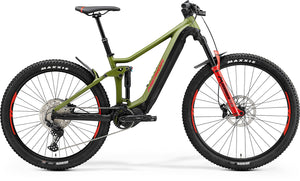 SAVE $1850 for a limited time! Huge manufacturer offer ends soon!
For a limited time, seize the opportunity to own the Merida eOne-Forty 500 Electric Mountain Bike in the striking Matt Green/Black (Race Red) colorway at an exceptional sale price of just $4,949.00. Act fast, as this exclusive offer will end soon, and you'll save a substantial $1,850 off the regular price of $6,799.00.
Why Choose PedL for Your E-Bike Adventure?
🚵‍♂️ Unmatched Savings: Our current special offer lets you save an impressive $1,850 on the Merida eOne-Forty 500, making it a fantastic investment in your off-road explorations.
🚵‍♂️ In-Person Experience: Visit our retail store for a hands-on encounter with the Merida eOne-Forty 500. Our knowledgeable staff are eager to assist you in finding the perfect ride for your adventures.
🚵‍♂️ Curated Selection: PedL offers a carefully selected range of high-quality e-bikes and accessories, ensuring you have access to the best options for your mountain biking endeavors.
🚵‍♂️ Expert Guidance: Rely on our passionate team of cycling enthusiasts for expert advice, ensuring you make an informed decision tailored to your preferences and needs.
🚵‍♂️ Dedicated Support: At PedL, your satisfaction is our priority. We provide exceptional customer support and after-sales service to ensure your e-biking journey is seamless and enjoyable.
Introducing the Merida eOne-Forty 500 Electric Mountain Bike
The Merida eOne-Forty 500 is a testament to innovation and performance, combining the best of dual-suspension trail bikes and electric bicycles for an unmatched riding experience.
💥 High-Performance EP8 Motor: With the powerful Shimano EP8 motor delivering an impressive 85Nm of torque, conquer rough terrain and technical climbs effortlessly.
⚡ Long-Lasting 630Wh Battery: The 630Wh battery ensures extended riding enjoyment, allowing you to explore trails without worrying about running out of power.
🏞️ Robust Aluminum Frame: Designed to withstand impacts while maintaining a lightweight feel, the aluminum frame is built to handle demanding trails.
🚵‍♂️ Innovative Mullet Design: The 29er front wheel and 27.5" rear wheel, along with trail-specific geometry, create a playful and agile ride suitable for various terrains.
🔥 Maxxis Rekon Tires: Enjoy excellent grip without sacrificing speed, ensuring longer rides on a single charge.
🛑 Reliable Braking Power: The Shimano M4100 4-piston hydraulic disc brakes provide dependable stopping power, crucial for an eBike's added weight and speed.
🚴‍♂️ Versatile and Capable: With the combination of the Shimano Deore M5100 11-speed gearset and the powerful EP8 motor, confidently conquer hills and shred trails.
Don't miss out on this exclusive opportunity to own the Merida eOne-Forty 500 Electric Mountain Bike at a limited-time sale price of $4,949.00. Elevate your mountain biking adventures with PedL, your trusted e-bike destination. Seize the moment, enhance your ride, and redefine your off-road escapades!
Frame
eONE-FORTY LITE III; MAT aluminium; 133 STR; 27.5x2.8" max. WHS; 148x12 AST; intube
Sizes
S-M-L-XL
Fork
Marzocchi Z2 eMTB+; Air; 140 STR; Tapered; 51mm fork offset; 29x2.6" max WHS
Rear Shock
SUNTOUR RS-EDGE-TR-LO-R8-M6; lockout
Drive Unit
Shimano DU-EP600
Battery
Shimano EN806 630Wh / Shimano EN805 504Wh for S only
Battery Charger
Shimano EC-E6002; 2A charging current
Display
Shimano SC-EN500
Mode Switch
-
Rear Derailleur
Shimano Deore RDM5100 11
Shifters
Shimano Deore M5100 11
Dropper Post Lever
Shimano SL -MT500-IL
Brake-F
Shimano M4204; 4 piston
Brake-R
Shimano M4204; 4 piston
Rotor-F
Shimano RT30; 203 mm
Rotor-R
Shimano RTEM300; 203 mm
Chainring
Shimano CRE70-B; 34 ATC
Crank
Shimano FCEM600; 165 mm for all sizes
Chain
KMC e11S EPT
Cassette
Shimano M5100; 11-51 ATC; 11 GER
Pedals
VP VPE-537
Handlebar
MERIDA EXPERT eTR; 780 WHB; 20 RHB
Handlebar Stem
MERIDA EXPERT eTR II; MAT aluminium; 35 DSH; 0 ASD; Supernova mount
Stem Length
50 mm all sizes
Seat Post
MERIDA COMP TR; 30.9 DSP; 0 SSB; M 100 SPT - L/XL 125 SPT - XXL 150 SPT
Saddle
MERIDA COMP SL; V-mount
Hub-F
Shimano MT400-B; 110x15 WHF; 32 SPH; Centerlock
Hub-R
Shimano MT400-B; 148x12 WHR; 36 SPH; Centerlock
Axle-R
MERIDA EXPERT TR; including removeable lever, 6/4mm allen key
Rims
MERIDA COMP TR; 29 IWR; MAT aluminium; Tubeless ready (tubeless tape and valves not included)
Tyre-F
MAXXIS REKON; 29x2.4"; wire; DUAL
Tyre-R
MAXXIS REKON; 27.5x2.6"; wire; EXO
Light Front
LEZYNE E-BIKE POWER STVZO E115, reverse MERIDA Custom Mount
Light Rear
USB REAR Light CG-214RG
Other