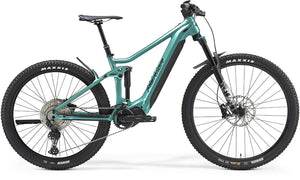 SAVE $2200 for a limited time! Huge manufacturer offer ends soon!
Experience the thrill of off-road adventures with the Merida eONE FORTY 500 Electric Mountain Bike, now available at an incredible price of just $4,799. This unbeatable offer saves you a substantial $2,200 and won't last long!
Why Choose PedL for Your E-Bike Adventure?
🚲 Unrivaled Savings: Our special offer allows you to save an impressive $2,200 on the Merida eONE FORTY 500, making it an affordable and enticing investment for your mountain biking journey.
🚲 Nationwide Swift Shipping: PedL ensures speedy and reliable shipping across Australia, bringing your new e-bike right to your doorstep in no time.
🚲 In-Person Exploration: If you're in Sydney, take advantage of the chance to visit our retail store and get hands-on experience with the Merida eONE FORTY 500. Our knowledgeable team is ready to assist you in finding the perfect fit.
🚲 Unmatched Selection: PedL offers a curated selection of high-quality e-bikes and accessories, ensuring you have access to the finest choices for your mountain biking needs.
🚲 Expert Consultation: Our passionate team is well-versed in cycling and e-bikes. You can rely on us to provide expert advice, helping you make an informed decision that aligns with your preferences and aspirations.
🚲 Comprehensive Support: At PedL, we are committed to your satisfaction. Our exceptional customer support and post-sales service ensure your e-bike journey is smooth and enjoyable.
Discover the Merida eONE FORTY 500: Elevate Your Off-Road Adventures
The Merida eONE FORTY 500 seamlessly combines the best of dual-suspension trail bikes and electric bicycles. Powered by the top-tier Shimano EP8 motor, delivering an impressive 85Nm of torque, this bike confidently handles rough terrains and challenging climbs. The 630Wh battery ensures extended riding hours, while the 140mm Marzocchi Bomber Z2 air fork and Suntour RS Edge shock provide exceptional performance on demanding trails.
Crafted with a durable yet lightweight aluminum frame, the eONE FORTY 500 is built to withstand rugged conditions. Its unique mullet design, pairing a 29er front wheel with a 27.5" rear wheel, along with trail-specific geometry and a shorter wheelbase, creates an agile and enjoyable ride. This bike strikes the perfect balance between playfulness and capability, allowing you to confidently tackle both smooth and rough trails.
Equipped with Maxxis Rekon tires, the eONE FORTY 500 offers excellent grip and fast rolling to minimize resistance and preserve battery life for extended rides. The Shimano M4100 4-piston hydraulic disc brakes ensure reliable stopping power, crucial for the added weight and speed of an e-bike.
Complementing the impressive EP8 motor, the Shimano Deore M5100 11-51T 11-speed gearset empowers you to conquer challenging climbs and confidently navigate trails.
For an adventurous and capable electric trail bike that excels in any terrain, the eONE FORTY 500 is the perfect choice. Experience exhilarating and versatile rides like never before.
Embrace the Thrill of Mountain Biking
Don't miss out on the exclusive opportunity to own the Merida eONE FORTY 500 Electric Mountain Bike at an unbeatable price. Seize the moment, elevate your off-road adventures, and redefine your mountain biking experience. Shop with confidence at PedL, your trusted e-bike destination. Discover the joy of the trails, enhance your ride, and embark on new mountain biking heights!
| No. | Component | Specification |
| --- | --- | --- |
| 01. | FRAME | eONE-FORTY LITE III; MAT aluminium; 133 STR; 27.5x2.8" max. WHS; 148x12 AST; intube |
| 02. | SIZES | S-M-L-XL-XXL |
| 03. | FORK | Marzocchi Z2 eMTB+; Air; 140 STR; Tapered; 51mm fork offset; 29x2.6" max WHS |
| 04. | REAR SHOCK | SUNTOUR RS-EDGE-TR-LO-R8-M6; lockout |
| 05. | DRIVE UNIT | Shimano EP8; 85Nm |
| 06. | BATTERY | Shimano E8036 630Wh / Shimano E8035 504Wh for S only |
| 07. | BATTERY CHARGER | Shimano EC-E6002; 2A charging current |
| 08. | DISPLAY | Shimano SC-E5003A |
| 09. | MODE SWITCH | - |
| 10. | REAR DERAILLEUR | Shimano Deore RDM5100 11 |
| 11. | SHIFTERS | Shimano Deore M5100 11 |
| 12. | DROPPER POST LEVER | Shimano SL -MT500-IL |
| 13. | BRAKE - FRONT | Shimano M4204; 4 piston |
| 14. | BRAKE - REAR | Shimano M4204; 4 piston |
| 15. | ROTOR - FRONT | Shimano RT30; 203 mm |
| 16. | ROTOR - REAR | Shimano RTEM300; 203 mm |
| 17. | CHAINRING | Shimano CRE70-B; 34 ATC |
| 18. | CRANK | Shimano FCEM600; 165 mm for all sizes |
| 19. | CHAIN | KMC e11S EPT |
| 20. | CASSETTE | Shimano M5100; 11-51 ATC; 11 GER |
| 21. | PEDALS | VP VPE-537 |
| 22. | HANDLEBAR | MERIDA EXPERT eTR; 780 WHB; 20 RHB |
| 23. | HANDLEBAR STEM | MERIDA EXPERT eTR II; MAT aluminium; 35 DSH; 0 ASD; Supernova mount |
| 24. | STEM LENGTH | 50 mm all sizes |
| 25. | SEAT POST | MERIDA COMP TR; 30.9 DSP; 0 SSB; M 100 SPT - L/XL 125 SPT - XXL 150 SPT |
| 26. | SADDLE | MERIDA COMP SL; V-mount |
| 27. | HUB - FRONT | Shimano MT400-B; 110x15 WHF; 32 SPH; Centerlock |
| 28. | HUB - REAR | Shimano MT400-B; 148x12 WHR; 36 SPH; Centerlock |
| 29. | AXLE - REAR | MERIDA EXPERT TR; including removeable lever, 6/4mm allen key |
| 30. | RIMS | MERIDA COMP TR; 29 IWR; MAT aluminium; Tubeless ready (tubeless tape and valves not included) |
| 31. | TYRE - FRONT | MAXXIS REKON; 29x2.4"; wire; DUAL |
| 32. | TYRE - REAR | MAXXIS REKON; 27.5x2.6"; wire; EXO |
| 33. | LIGHT FRONT | LEZYNE E-BIKE POWER STVZO E115, reverse MERIDA Custom Mount |
| 34. | LIGHT REAR | USB REAR Light CG-214RG |