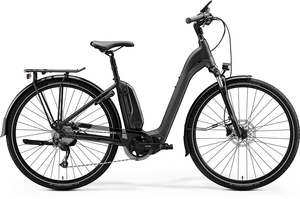 SAVE $1670 for a limited time! Huge manufacturer offer ends soon!
For a limited time only, you can seize the opportunity to own the remarkable Merida eSpresso City 300 SE EQ e-bike at an unbeatable price of just $2229. Don't miss out on this incredible deal, as the offer ends soon, and stock is limited!
Why Choose PedL for Your E-Bike Adventure?
🚲 Unmatched Savings: With our current special offer, you can save a whopping $1670 on the Merida eSpresso City 300 EQ, making it an affordable and fantastic investment in your daily commute.
🚲 Fast Shipping Australia-Wide: No matter where you are in Australia, PedL ensures swift and dependable shipping right to your doorstep. Experience the joy of owning your new e-bike sooner than you think!
🚲 Retail Store Convenience: If you're in Sydney, you're in luck! Visit our retail store and get a hands-on experience with the Merida eSpresso City 300 EQ. Our knowledgeable staff are here to assist you in finding your perfect ride.
🚲 Unrivaled Selection: PedL offers a curated range of high-quality e-bikes and accessories, ensuring you have access to the best options for your urban cycling needs.
🚲 Expert Advice: Our team is passionate about cycling and e-bikes. Count on us to provide you with expert advice, ensuring you make an informed decision that aligns with your preferences and requirements.
🚲 Support and Service: At PedL, we are committed to your satisfaction. We offer exceptional customer support and after-sales service to keep your e-bike journey smooth and enjoyable.
Discover the Merida eSpresso City 300 EQ: Elevate Your Commute to a New Level
The Merida eSpresso City 300 EQ redefines urban commuting with its cutting-edge features and exceptional performance. Equipped with Shimano STEPS e-bike components, this e-bike stands out in the crowded streets, making your daily commute a breeze.
🔌 Powerful Battery and Drive Unit: The Shimano E8010 504Wh battery and E5000 Drive Unit work in harmony to provide seamless electric assistance, ensuring a comfortable and sweat-free ride to your destination.
🛣️ Versatile and Dependable: Whether you're navigating bustling city streets or tackling wet conditions, the Shimano Hydraulic Disc Brakes empower you with precise control. Essential accessories, such as lights, a kickstand, a rear rack, and an Abus 5650 frame lock, are included for your convenience and security.
🚴‍♂️ Extended Range: With a 504Wh battery, the eSpresso City 300 EQ offers an extended range, allowing you to cover more ground between charges and explore your city with confidence.
🌟 Craftsmanship and Innovation: The eSpresso City 300 EQ boasts meticulous design features, from Prolite 66 Triple Butted Aluminium for lightweight durability to Smart Entry cable routing for concealed sophistication. Every detail exudes excellence and elevates your riding experience.
Embrace the Future of Urban Commuting
Don't miss out on the exclusive opportunity to own the Merida eSpresso City 300 EQ at an unbeatable price. Take advantage of our limited-time offer and elevate your urban commuting experience. Shop with confidence at PedL, your trusted e-bike destination. Seize the moment, enhance your ride, and redefine your cityscape adventure!
More Information
| | |
| --- | --- |
| Season | 2021 |
| Wheel Size | 700c |
| Frame Material | Alloy |
| Colour | Black |
| Groupset Brand | Shimano |
| Groupset | Shimano Altus |
| Rear Gears | 9 Speed |
| Fork Brand | Suntour |
| Front Gears | Single |
| Brake Type | Hydraulic Disc Brake |
| Front Travel | under 100mm |
| Battery | Shimano E8010; 504Wh |
| Bottom Bracket | included |
| Brakes | Shimano MT-200; 2 piston |
| Brake Levers | Shimano MT-200 |
| Cassette | Shimano HG400; 11-36 ATC; 9 Speed |
| Chain | KMC e9S |
| Crankset | Shimano FC-E5010; 170mm |
| Derailleur Rear | Shimano Altus M2000 |
| Display | Shimano SC-E5000 |
| Motor/Drive Unit | Shimano E5000; 40Nm |
| Fork | Suntour NEX-PM-DS; Coil; 63 STR |
| Frame | eSPRESSO CITY LITE; MAT aluminium |
| Grips | MERIDA EXPERT TK |
| Handlebar | MERIDA EXPERT TK; MAT aluminium; 640 WHB; 35 RHB |
| Hubs | Shimano MT400; 142x12 WHR; 36 SPH; Centerlock |
| Pedals | VP; VPE-891 |
| Rims | MERIDA COMP TK; 20 IWR; MAT aluminium |
| Saddle | MERIDA EXPERT TK; V-mount |
| Seatpost | MERIDA EXPERT TK; 30.9 DSP; 15 SSB; 40 SST |
| Stem | MERIDA EXPERT TK; MAT aluminium; 31.8 DSH; adjustable |
| Spokes | Black stainless |
| Shifters | Shimano Altus rapidfire |
| Tyres | Continental Contact Plus; 622-47; wire; reflecting line |
| EBike Drive System | Mid Drive |
| Speeds | 1 x 9 |
| Sizing SKUs | XS: MEEB2165205, SM: MEEB2165216, MD: MEEB2165227, LG: MEEB2165238 |
| Motor Brand | Shimano |
| Motor Model | STePS E5000 |
| Motor Torque (Nm) | 40 Nm |
| Battery Brand | Shimano |
| Battery Model | STePS E8010 |
| Battery Size (Watt-Hours) | 504 W-h |
| Charge Time (Hours) | 5 hrs |
| Assist Modes | 4 Modes |